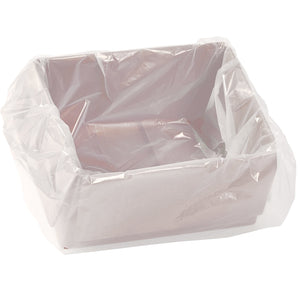 Box Liner : 25.5" x 17.5" x 20" 3.0 Mil Clear Gusseted Biodegradable* Liner
Regular price $90.72 Sale
SPECIFICATIONS
Pack Size: 240 Box Liners Per Case
Liner Dimensions: 25.5" x 17.5" x 20"
Price per case: $90.72
Film Color: Clear
Plascon FDA approved food grade liners can be used for food and non-food items to protect items during storage of transportation to final destination.
Biodegradable

*

LLDPE; box liner; food-grade; robust, thicker liner suitable for frozen applications like bakery or meat items. Also, products that may be dropped into the box.  Optimal corrugated box size w/ open top flaps or container size = 24" x 15" x 12"; May fit boxes and containers smaller than these sizes, but not recommended to exceed these sizes.  The gusseted liner creates a proper fit to boxes allowing contents to fit corner to corner. 
* 49.28% biodegradation in 900 days under non-typical conditions. No evidence of further biodegradation.